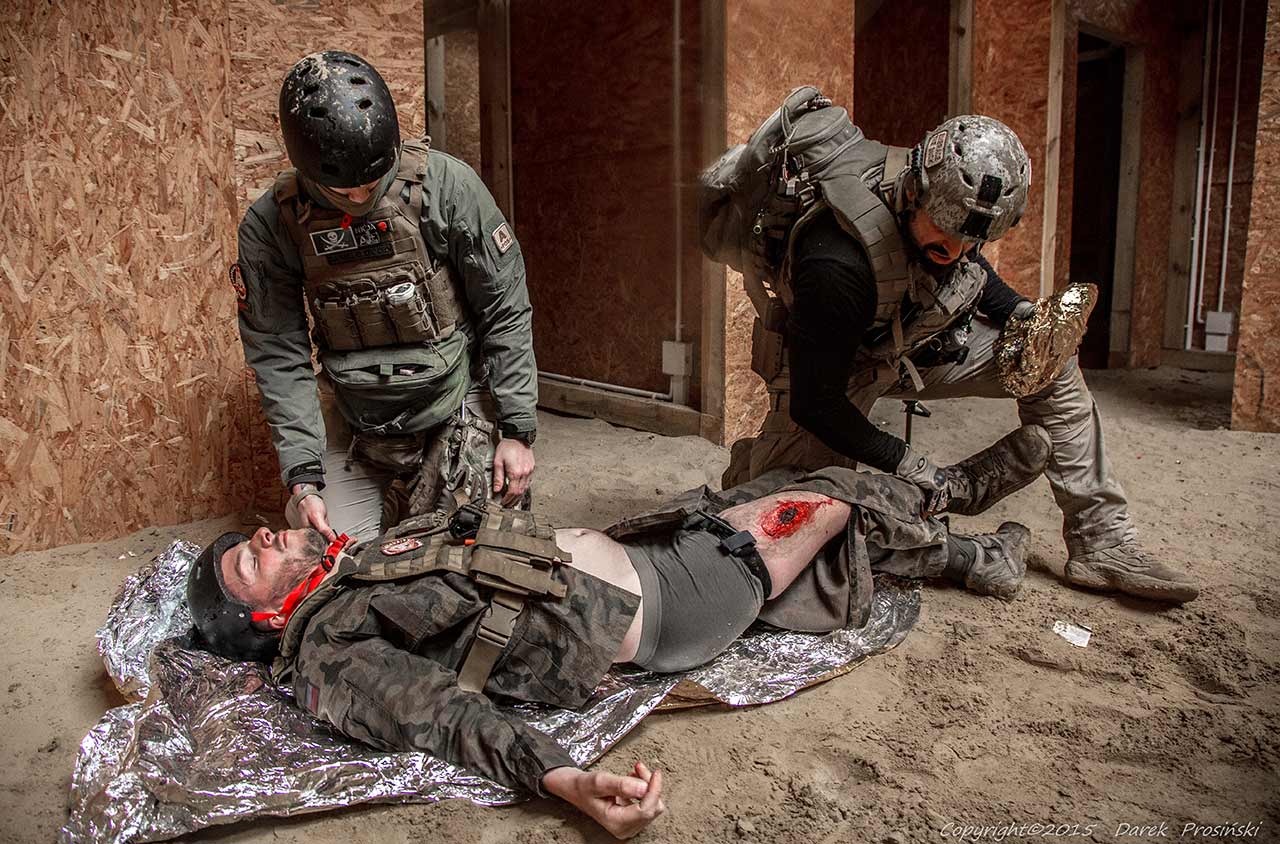 Paramedic Response
Tactical Combat Casualty Care
This course is dedicated especially for:
Private Military Contractors
Close Protection Operators
Maritime Security Operators
Soldiers
Police / SWAT Officers
Other, operating in war zones / remote areas

The course ends with:
Practical assessments/skills tests
Formative assessments
Theory assessment/multiple choice questions
Required gear
Tactical Belt.
Tactical/Outdoor boots.
Clothing appropriate for climate and conditions.
Topics
The TCCC principles.
The principles of Primary Survey in pre-hospital care.
Assessing an incident for dangers of injuries from road traffic collisions, ballistics and violent assaults and respond appropriately.
Assessing a Mass Casualty Incident and Triage.
The TCCC phases: Care Under Fire, Tactical Field Care, Tactical Evacuation.
The principles required for effective and safe use MARCHE protocol.
Recognizing and managing a Casualty's Massive Hemorrhage.
Assessing and managing a Casualty's airway, including hand maneuvers and other Interventions.
Recognizing and managing a Casualty Respiration, life threatening Chest Injuries, including Needle Decompression and Chest Seal.
Recognizing and managing a Casualty's Circulation and perform Fluid Resuscitation (I.V & I.O, TXA).
Performing Analgesia and Antibiotics
Recognizing and managing a Casualty's Hypothermia / Hyperthermia.
Recognizing and managing a Casualty's trauma: Fractures, Dislocations, Burns, Head Trauma, Penetrating Eye Trauma,  Abdominal Trauma and Other Injuries.
Managing a Casualty in the dark.
Knowing the principles required for effective Communication,
Preparing a Casualty for Evacuation including Transportation / Evacuation Priorities and CPR
Assessing and managing a Casualty's  Documentation of Care
Course prices includes accommodation and food for a complete training
Please log in
Course info
This course dedicated for soldiers, PMC's and all others operating with weapon especially on a battlefield.
The medical equipment and access to Professional Emergency Care is limited in this enviroment.
The problems on a battlefield (TCCC) are statistically connected with bullet or blast wounds.
This course is conducted according to a 40-hour program TCCC-CLS (TCCC Combat Lifesaver) and it ends with the NAEMT TCCC-CLS certificate.
Accreditation