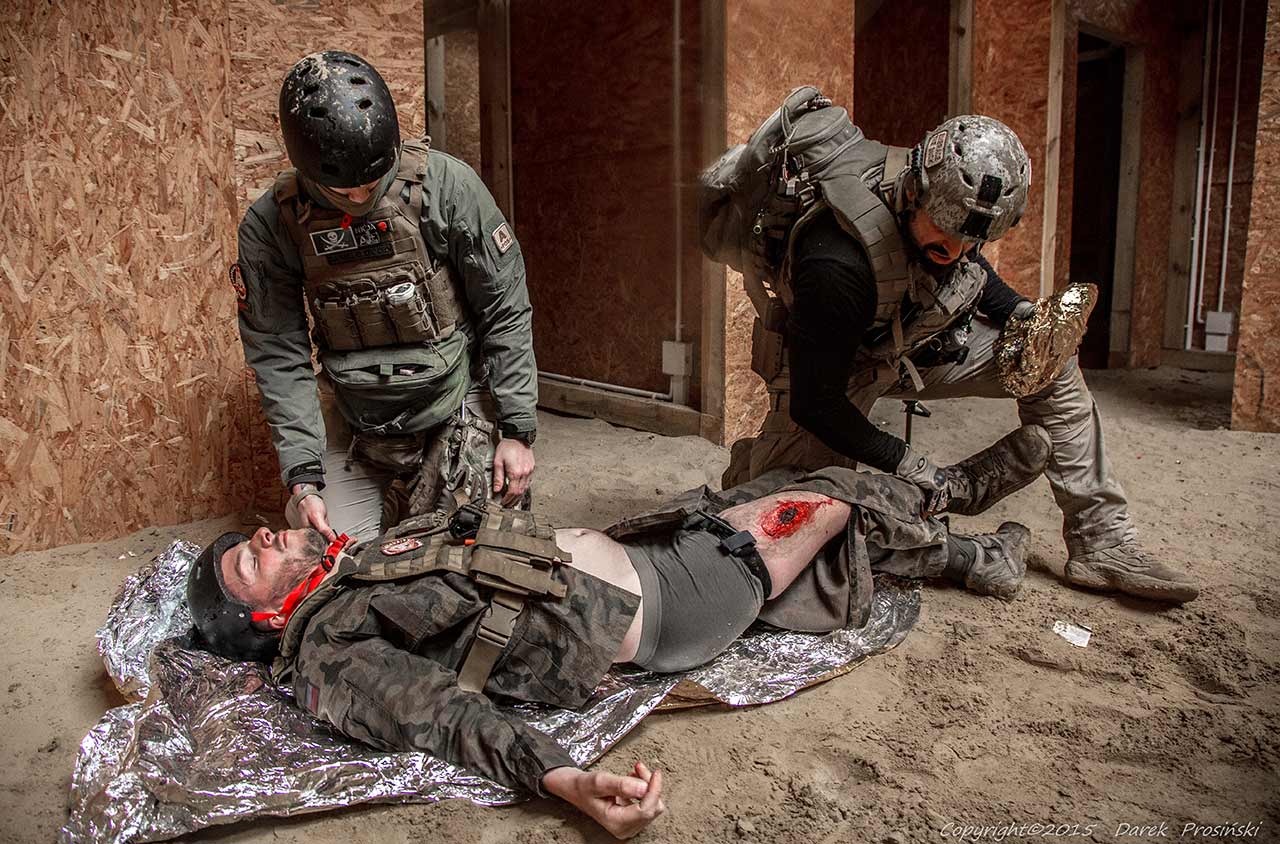 Paramedic Response
Tactical Combat Casualty Care / MIRA
This course is dedicated especially for:
Private Military Contractors
Close Protection Operators
Maritime Security Operators
Soldiers
Police / SWAT Officers
Other, operating in war zones / remote areas

The course ends with:
Medical Scenarios with wound imitation
Final examination: theory and practice

Required gear
Tactical Belt. Tactical/Outdoor boots. Clothing appropriate for climate and conditions.
Topics
At the end of the course, the students will be able to:
Understand the MIRA / TCCC principles
Know the principles of Primary Survey in pre-hospital care
Assess an incident with regard to the dangers of injuries from road traffic collisions, ballistics and violent assaults and respond appropriately
Assess a Mass Casualty Incident and Triage
Know the TCCC phases: Care under Fire, Tactical Field Care, Tactical Evacuation
Know the principles of Casualty Transportation / Evacuation
Know the principles required for effective and safe use of the MARCHE protocol
Recognize and manage a Casualty's Massive Hemorrhage
Assess and manage a Casualty's airway blockage, including hand manoeuvres and Surgical Interventions
Recognize and manage a Casualty with life-threatening Chest Injuries, including Needle Decompression and Chest Seal
Assess and manage a Casualty's Circulation and perform Fluid Replacement (I.V & I.O)
Assess and manage a Casualty's Hypothermia / Hyperthermia
Assess and manage a Casualty's trauma: Fractures, Dislocations, Burns, Head Trauma, Abdominal Trauma and Other Injuries
Know how to manage the Casualty in the dark
Recognize and manage a Casualty with Environmental Illnesses
Recognize and manage a Casualty witch Nuclear, Biological, Chemical injuries
Prepare a Casualty for Evacuation
Course prices includes accommodation and food for a complete training
Book your place now
Course info
The Tactical Combat Casualty Care (TCCC) / Medicine in Remote Area (MIRA) is a 4-day course, which introduces evidence-based, life-saving techniques and strategies for providing the best plan for trauma care on the battlefield / remote area.
The ESA Field Experienced Instructors conduct TCCC / MIRA courses following the actual TCCC guidelines and PHTLS program, the recognized world leaders in Combat Medicine / Prehospital Trauma Education.
The course ends with the MIRA award, the most current and recognized medical qualification in the security industry. It is a Level 3 Award in the Medicine in Remote Areas accredited by the awarding body AoFA (Association of First Aiders).
Accreditation