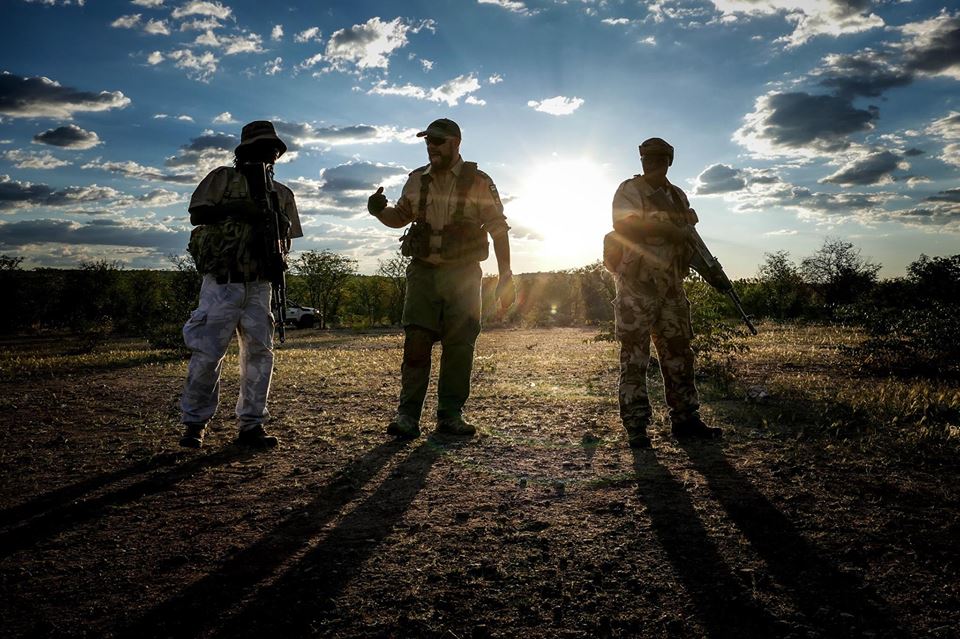 High Risk Protection
Poaching Prevention Operator
PPO Course Syllabus
PPO Basic Field T3C
PPO environmental threat
1 Basic knowledge of savanna, tropical and forest ecology:
Different kind of vegetation patterns and animals caring capacity. Metereological and climate main aspects.

2 The African 10 high profile animals and their basic behavior:
1 Elephant / 2 White and black rhino / 3 Buffaloe / 4 Lion / 5 Leopard / 6 Hyena / 7 Hippo / 8 Crocodile / 9 Giraffe / 10 Ostrich.

3 Dangerous African reptiles:
Colubridae / Elapidae / Viperidae main species and their venoms.

4 Dangerous African arthropods:
Insects main dangerous species / arachnid main dangerous species / miriapodes main dangerous species.


PPO shooting techniques
1. Equipment
Tactical use of webbing / positioning vital and no vital goods / platform sling.

2. Port and stances.
Weapons Safety / How to hold and move with a semi automatic / full automatic rifle-shotgun / advanced movements with rifles – standing, kneeling, prone, scanning, moving / different modes of carrying the rifle depending on the state of alert / muzzle and finger discipline.

3. Weapons and shooting drills:
Weapons Safety / individual shooting drills, involving movement and shooting from different positions, covers, concealments. Reloading, malfunctions, weapon check, safety procedures / tactical readiness, concealment, covert, shooting from concealment and from cover / target prioritization.

4. Patrolling:
5A concept of situation awareness both passive and active / patrolling tecs based on 2 men and 4 men team: column, line, staggered formations, wedge, Y, Echelon

5. Immediate Reaction Tecs and drills:
How to react after a contact is made / offensive, defensive and evasive (envelops) movements / moving as a team of 2 and 4 with live fire.

6. Basics of dynamic shooting :
Balance / the tank concept / preventing funnel vision / step shot and stop shot.

7. Moving forward, backward and sideward:
Aiming while moving / holding aim while moving (balance exercise) / preventing damages from falls.

8. Shooting while moving:
Shooting while moving forward, backward and sideward 1 and 2 targets / the triangle exercise with 1 and 2 targets.

PPO vehicular training
1. Vehicle drills:
QRU and QRF Tactics based on vehicle use / debus and enbus / use of vehicles as a protection.

2. Shooting from a vehicle:
Shooting while moving, shooting from inside and outside the vehicle, casevac, shooting and contact drills.

3. Vehicle search:
Vehicle search tecs / hiding spots / outside, inside, bottomside.


PPO Observation Post
1. OP setting and living:
OP equipment / Creating and living an OP / finding shelters.

2. Camouflage and concealment.
Basics of camouflage / Tecs based on camouflage and concealment / 3D suites.

3. Moving and acquiring an optimal OP.
Stalking and moving in silence / OP optimal spots.

4. OP tactical response.
Shooting from an OP with and without backpack

PPO counter-ambushes
1. Ambush goal: defensive or offensive.
Defining ambush goal and organizing an ambush / contests dictates tactics / defensive tecs / offensive tecs.

2. Near and Far ambushes.
Basics and dynamics of near ambushes / Basics and dynamics of far ambushes

3. Linear, V and L shape ambushes.
Pros and Cons of different ambushes.

4. Counter-ambushes: side, back and front drills.
How to prevent ambushes / patrolling formations that better react to ambushes / immediate reaction drills (defensive, offensive and evasive)

5. Basic communications and Radio Procedures.
Coms and Ops.


Exams
Exercise tests:
1) Run 1000m in less than 6 minutes with a backpack at 15kg load.
2) Perform 30 push-ups (men) - 15 push-ups (women).
3) Successfully complete AK and shotgun shooting tests.
4) Successfully complete the patrol and response tests to the ambushes.
5) Successfully complete the theoretical test.

Certifications Issued
Poland:
1) Poaching Prevention Operator 1/2 (PPA / ESA)
2)Tactical Combat Casualty Care

Africa:
3) Poaching Prevention Operator 2/2 (PPA / ESA)

Internship in Africa
Once the candidate will pass the training phase in Poland, P.P.A. will choose the best site for the second part of the training. The second part will take place in one of PPA sites ranging from Kenya to South Africa, with a duration that varies from 2 weeks to 2 months. Based on results the candidate will be sent to the most suitable location for his competences. The logistic costs of transport, medical insurance and vaccines are the student's responsibility. P.P.A. will cover the cost of board and lodging for the period of stay in Africa.

Once the candidate has been locally tested (it will be a training on duty) he will be given an assessment evaluation and becomes a Poaching Prevention Operator. By acquiring this certification he will has the chance to follow the PPA instructor course and be deployed as a trainer or participate in anti-poaching activities in Africa via PPA or other agencies operating in the sector.


Skill prerequisits
- Ability to carry out 30 push-ups on the arms;
- Ability to travel 1000 meters in 6 minutes with a backpack weighing 15 kg;
- Ability to use for targeted shooting, assembly and disassembly of the AK47 platform rifle (better if certified);
- Absence of criminal records and excellent health condition;
- Good knowledge of the English language;

Required gear
1.Comfortable clothes for the entire training (pls consult forecast for the period).
2.Tactical vest with magazine pouches and extra pouches (chest rig preferred).
3.Hat and gloves.
4.4 metres rope 10mm + 2 climbing carabineers.
5.2 points tactical rifle sling.
6.1 rack sack 12h/24h.
7.Rain coat.
8.1 coffee beans bag made of natural textile.
9.Facial camouflage paintings.
10.Water bottles or canteen.

Topics
•Field craft -Camouflage and concealment. Living and working in the field.
•Patrolling techniques: column, line and modified techniques.
•Advanced Weapons training: advance firing, contact drills, weapons handling and patrolling safely with rifles (port and ready stances). We will be dealing with AK's, Shotguns and also simunitions. (PLS bare in mind, this is not a carbine course but a ranger course! No competence with your weapons… no chances to advance).
•Communications and radio procedures.
•From static observation posts (OP's) to reactive OP's.
•Setting up maintaining and living in OP's.
•Surveillance and reporting on known or suspected poachers.
•Background in status, ecology, behaviour and habitats of local wildlife.
•Live drills and force on force techniques.
•Vehicle drills and searching.
•Techniques of navigation in the field – Acquiring your position using Global Positioning System, use of a compass and map and accurate position plotting and reporting. Finding your way using Celestial navigation and use of the sun (using Austral constellations).
•Forensic for first in the scene (FFIS)
Book your place now
Course info
The European Security Academy and Poaching Prevention Academy course has been created to develop a training career and professional path in order to answer to the recent wildlife crises.
This course has been developed in order to deliver to all trainee basic knowledge of the most important aspects in counter poaching operations. Although a lot of people may possess the right tactical skills and background, counter poaching operations are mainly focused on 4 aspects:
1.Wildlife management.
2.Environmental threats.
3.Human based threats.
4.Medical Responce
For these reasons our course is divided into 2 main steps:
1.Training in Poland in ESA base.
2.Training in Africa in one of PPA operation sites (Internship included in the price, transport and medical expenses excluded – board and lodging paid by PPA);
Please note: any rangers course that is not based in Africa is fake! Rangers are exposed on a daily basis to an environmental threat such as heat, cold (yes – in winter in some Southern African countries winter is very cold), wild animals (from elephants to nasty spiders), African based diseases and, then, to poachers. Our training is both tactical (Poland part) and environmental (African part).