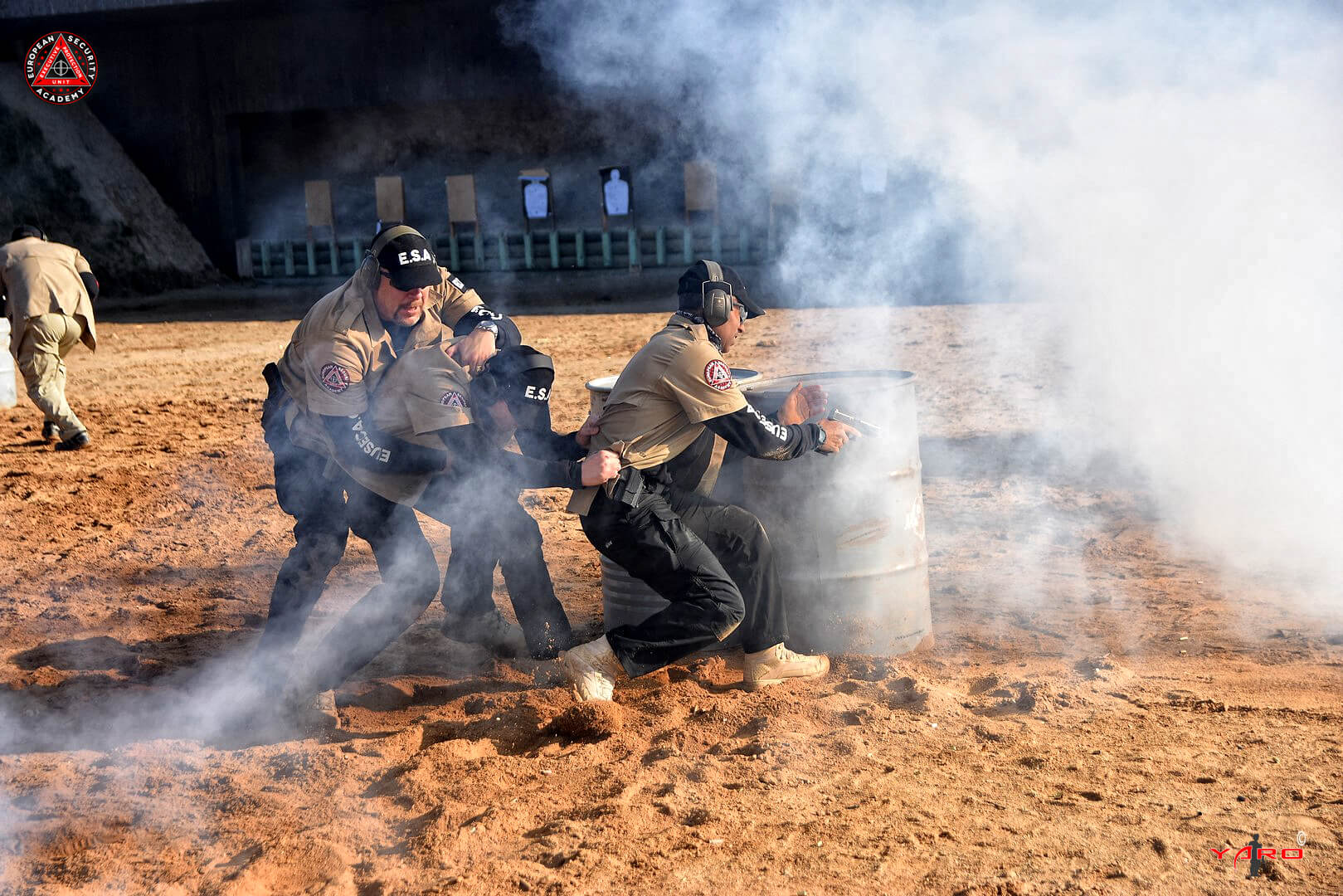 VIP Protection
Close Protection Operative
Weapons
Pistols
Glock 17
Glock 19
H&K USP
Sig Sauer P229
Beretta 92F
Submachine guns
Simunition
Glock 17
B&T APC & MP5 conversion kits
Methods
This course will be taught using theoretical and practical exercises. Lectures will be presented in the classroom, in an urban area, and in the shooting range. The course will be given in the ESA Training Center with the use of ESA equipment.
Skill prerequisits
None. A candidate does not have to possess prior experience in Close Protection.
Required gear
Casual clothing (no jeans), Rain/ weather gear and business clothing (slacks, jacket, tie, and appropriate shoes), Tactical cargo pants, Tactical belt (sturdy), Sports shoes, Sports uniform.
Topics
Principles of close protection
Introduction to threat assessment and risk analysis
Protection formations
Hello Arrivals / Departures
Dress code and etiquette
Low profile security and tactics
Unarmed combat
Tactical Firearms (Pistol and Submachine guns – live fire)
Case studies
Elements of Close Protection Team
Cover and evacuation drills, live fire (FX Simunition)
Advance work
Advance work; surveys, preparation, and planning – exercise
Team Leader; roles & responsibilities
Radio communication procedures
Motorcade procedures
Final training exercise: IN TOWN EXERCISE – training in a realistic everyday situation
Briefing the Principal
Course prices includes accommodation and food for a complete training
Book your place now
Course info
The course's main goal is to provide a student with all the necessary theoretical knowledge and practical skills to work as a Close Protection agent – as soon as s/he completes our 14 days intensive program.
The course uses a minimum of classroom lectures with a maximum of realistic and practical field training exercises. It provides a full understanding of close protection operations worldwide. The CPO Course teaches general knowledge within the 'Business' and 'Dignitary' areas of Close Protection, and its training program is based on proven training methods.
The Course is approved by the AoFA (Association of First Aiders) and allows graduates to apply for the SIA license from the Security Industry Authority. The full name of this qualification: Level 3 Certificate for Working as a Close Protection Operative within the Private Security Industry.
However, in order to apply for the SIA license, there is a need to complete the FPOS (First Person on Scene) Paramedical Response course as well.
Accreditation