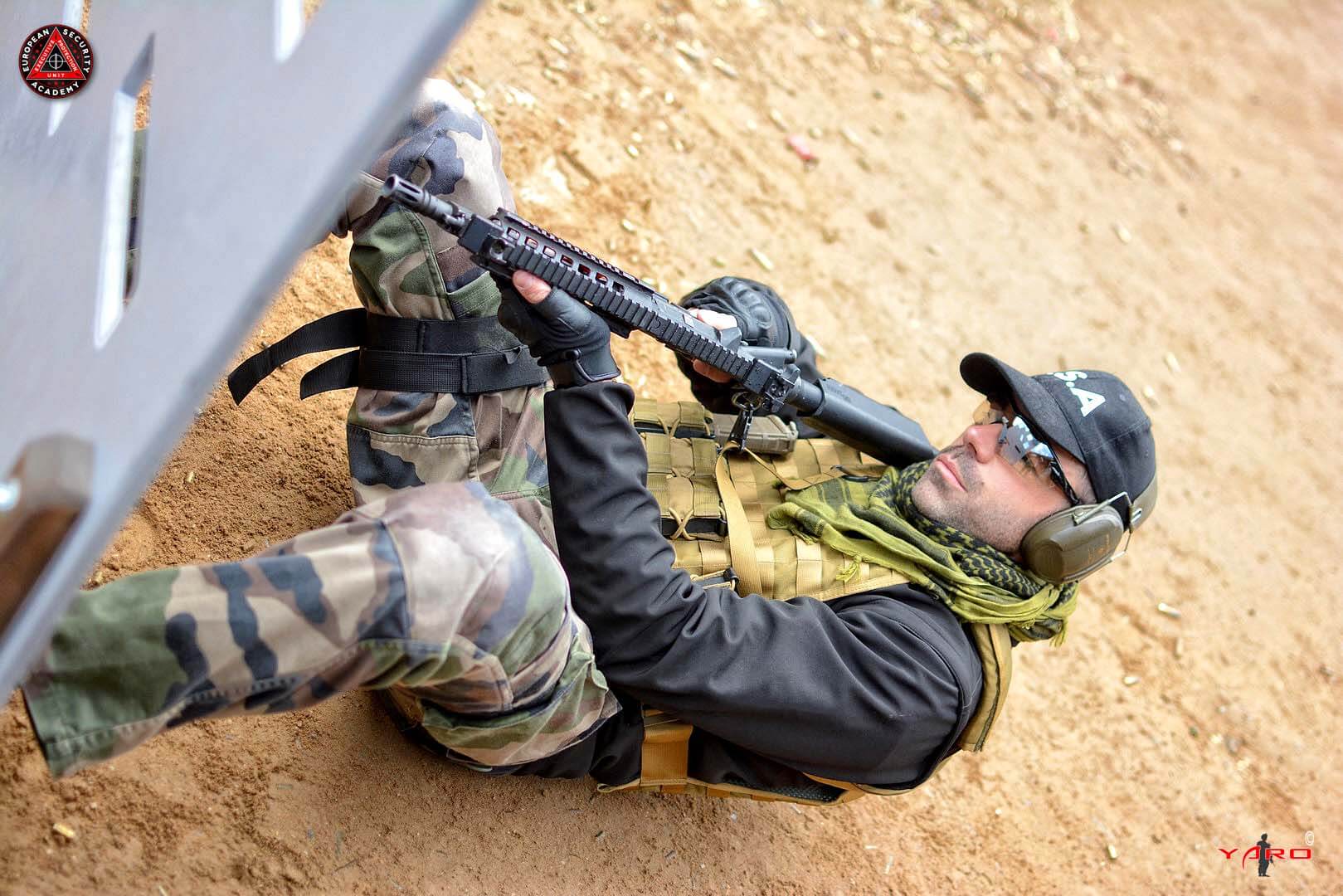 Tactical Shooting
Center Axis Relock (CAR) System
CORE COMPONENTS: 6 Rs
a) Reacting:
-Key grip
-Key clearance
-Key support
-Key presentation

A) Close Quarter Position
B) Combat Position
C) Apogee Position
D) Single Hand Options
E) Concealed Carry

b) Reducing
c) Reloading:
- Types of reload

d) Recovering:
- Stoppage drills
- Malfunctions

e) Returning
f) Retention
- Retention drill
* Castle drill


MENTAL PREPARATION
COMBAT BREATHING
IMMEDIATE VEHICLE ORIENTED COMBAT (IVOC):
Sterile area
Active defense within zones
Weapon presentation
Concealed Ready
CQC Close Quarter Tactics
Castle Drill
Force on Force FoF* (simunition)
Different scenarios
Weapons
Pistols – Glock 17, Glock 19
Simunition – Glock 17
M4/AR15 – 5.56


Methods
This course will be taught with use of theoretical classes and practical exercises. The lectures will be conducted in the classroom, urban area and on the shooting range. The course will be provided in the ESA Training Center with use of ESA equipment.
Price Includes
- Transport from the Airport to ESA
- Transport from ESA to Airport
- Meals: 3 per day
- Accommodation
- Ammo
- Hand guns
- Certificate - CAR System
- Patch - CAR System
Skill prerequisits
Basic pistol course or other.
Required gear
Sturdy / Tactical Belt. Clothing appropriate for climate and conditions.
Topics
Vision
Focal point
Dominant eye
Aiming / Dual sight picture
Crisis focus
Target acquisition
Effective Reaction
Bladed stance / Stability
Circle of control.
Hand Gun
Course prices includes accommodation and food for a complete training
Book your place now
Course info
The primary goal of the CAR System is to keep operators alive. Current law enforcement shooting statistics highlight an issue when it comes to firearms accuracy during actual combat situations. To this end, the CAR System is designed to improve the abilities of every user during combat, when they have the Body Alarm Response activated. The CAR System consists of simple, easy to learn techniques, developed around our biology and economy of motion.
The CAR System will work for everyone and is not discriminative of age, race, size or gender, immediately improving the user's ability to deal with life-threatening situations while they are being affected by the Body Alarm Response and all the corresponding issues. Shot from the bladed "interview stance" offers the users an unparalleled stability and mobility over traditional stances, especially at closer distances.
The CAR System is a completely ambidextrous system of firearms usage, immediately increasing the effectiveness of cross-eye dominant shooters and left-handed shooters. It allows its user to aim fire in an arc over 360° from a stationary or seated position. The CAR System increases stability and point shooting while being easily adapted to multiple scenarios. It works extremely well in confined spaces, offers some of the most efficient forms of room entry and close quarter battle (CQB) techniques and much more.